PaulaG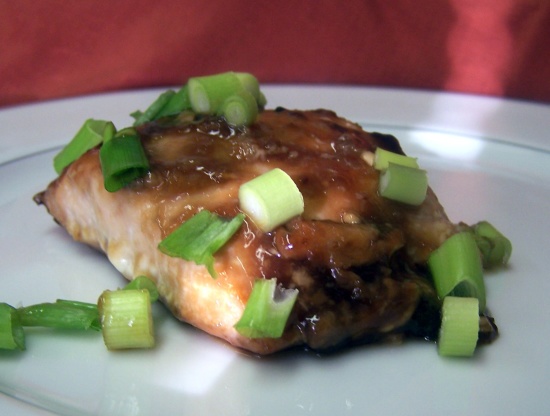 Salmon is my number one favorite "meat" so I'm always looking for a variety of ways to cook it. Here is another of several ways I like to prepare it. (I only make this with REAL maple syrup, so can't vouch for the results if you substitute.)

We made this for New Year's Eve with a couple of modifications, and it turned out great!
- 4 tbsp of maple syrup
- 2 tbsp of grainy Dijon instead of the ginger
- only 1/2 tsp of cornstarch
It was served with wild rice, and green beans. Thanks for sharing a great one.
In a small bowl whisk together the syrup through cornstarch solution until smooth.
Place the fillets skin-side-down in a shallow baking pan.
Pour the syrup mixture over the salmon.
Bake about 15-18 minutes at 450°F until the fish flakes easily; baste with glaze halfway through cooking.
Sprinkle with scallion and almonds before serving.