Maple-Drizzled Apple Muffins
CoCaShe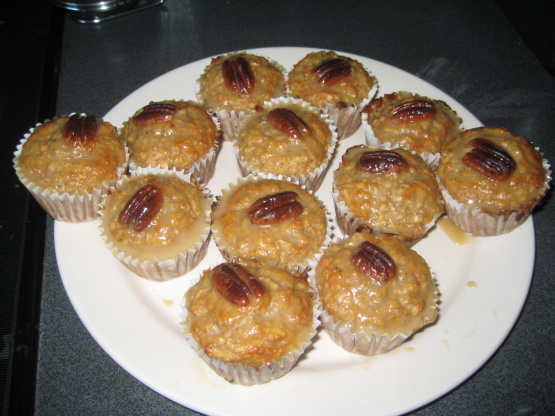 Being from Quebec (Canada) (where we have a lot of Maple trees!), I just love anything that contains maple syrup. These muffins sound divine!

I never had better muffins in my life. We didn't use nuts or the glaze, and we used regular oats instead of quick oats. Everything else was the same. So moist and perfect. Chopped up Northern Spy apples and they made the muffins a wonderful texture. I baked them at 380 degrees for 25 minutes. We will probably make another batch today to share with others. Sincerely the best muffins ever.
In a large bowl, combine flour, oats, sugar, baking powder and cinnamon.
In a small bowl, mix milk, butter, syrup and egg; stir into dry ingredients just until moistened. Fold in apples.
Fill greased or paper-lined muffin cups three-fourths full. Top each with a pecan half.
Bake at 400° for 18-20 minutes (or until muffins test done).
Cool in pan 10 minutes before removing to wire rack.
After cooled, mix sugar and syrup for glaze; drizzle over muffins.