Sara 76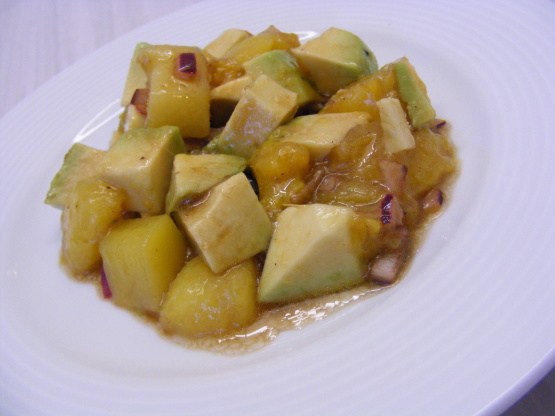 Looks delicious. Saw Sunny Anderson make this on Cooking for Real. She said it's a great side dish for hot dishes such as jerk chicken. UPDATE: I just made this recipe and WOW is it good! I left out the onions and it was fabulous. I used my expensive balsamic vinegar (which is thick and sweet), however if you want it to be pretty in the end, you may want to use white balsamic and add a pinch of sugar. Great meal starter.

This was very good - everything complemented.
In a large serving bowl, whisk together vinegar, lime juice, salt and pepper to taste.
Slowly whisk in oil.
Toss in mangoes, avocado and red onion to coat.
Serve immediately.