Mamaliga Cu Branza (Cornmeal Mush With Cheese)
Rita1652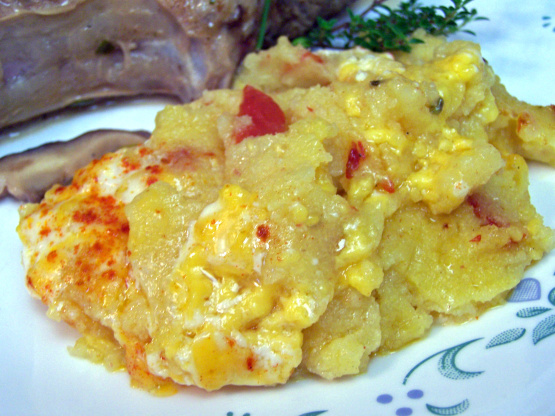 Mamaliga is a traditional Romanian Recipe. When one thinks of mush, it is usually unappealing. If you are familiar with and like Polenta, here is the Romanian version. We call it Mamaliga. When I was a child, my mother would serve Mamaliga, on its own, with fish, or other meats, instead of bread. It is equally good the next day, because it can be cut into pieces, and dipped into a tocana (stew) or ciorba de fasole (bean soup). The next day, Mamaliga may be served for breakfast, fried with bacon, or sausages.

This was easy and good. Creamy and cheesy. I scaled it back to 2 servings with no problems (just added an extra 1/3 cup water to keep the cornmeal from cooking down too much and burning in step 4). It made more than enough for the three of us. Thanks for sharing.
To prepare the Mamaliga, mix the cornmeal,and salt together with 1 1/2 c cold water and set it aside to soften.
Bring 4 cups water to a hard boil.
Add the cornmeal mixture to the boiling water, stirring constantly.
When the Mamaliga begins to thicken, cover, and cook over lower heat, for about 30 minutes, stirring periodically; do not allow Mamaliga to burn. Now you are ready for the cheese.
Divide the butter into 3 equal parts.
Divide the grated cheese into two equal parts.
Divide the cooked cornmeal into two equal parts.
To a casserole dish, add 1/3 of the butter and 1/2 of the cooked cornmeal.
Add an additional 1/3 of the butter, and 1/2 of the grated cheese.
Add second 1/2 of the cooked cornmeal, butter and cheese.
Top with the sour cream.
Bake 1 hour at 350°F.