ImPat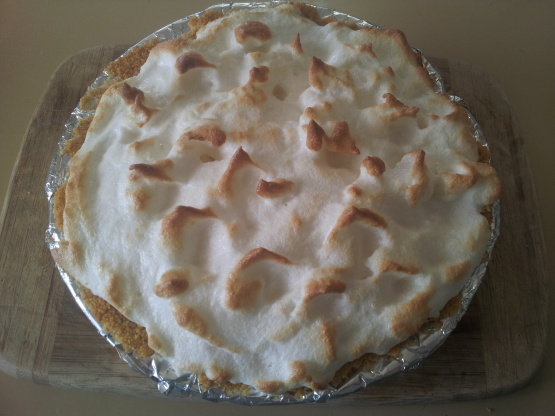 I found this recipe for ZWT9, and am so wanting to make it very soon. I found this on a site " A Cajun Down Under " --Stories of a Cajun girl living in Sydney Australia. She has adapted this recipe for Australian Ingredients and states -- I've had to make one change to suit Australian ingredients as there is no such thing as Graham Cracker Crust here. Mama used the ready made crust, but I've had to make my own.

Top Review by ImPat
I mainly made this for the DH, scaling back for 1 pie and he thought it was o'kay but I also had a very small slice and really enjoyed the flavours and the textures, I would have maybe liked a bit more lemon flavour so would consider adding the zest of 1/2 or whole lemon; also I used arrowroot biscuits and though I baked them as directed I honestly don't think you need to. Also out of habit I lines my pie dish aluminium foil. Thank you Tisme for posting, made for Make My Recipe tag game.
To make the crust, combine the crushed Granita with the melted butter and firmly press the crumb mixture evenly on the bottom and sides of two 9 inch pie plates. Bake at 350F (180C) for 7 minutes and let cool before pouring the pie mixture into it.
Lightly whisk 6 egg yolk little and add condensed milk to the egg yolks and stir a little again. Pour juice from the lemons on top and let it sit a while as you make the meringue topping.
To make the meringue, whip the egg whites until stiff with cream of tartar. Add vanilla and sugar.
Stir the lemon juice into the condensed milk mixture until well combined.
Pour the lemon mixture into 2 pie crusts and top with the meringue.
Bake at 400F (200C) until slightly browned.
Let the pie cool and then place in the fridge until ready to serve.
Notes:
When serving, dip the knife in cool water before slicing to get a clean cut on the meringue.