Luscious Creamy Glazed Onions
Rita1652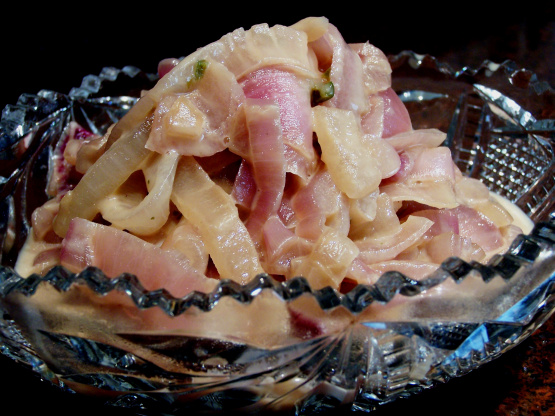 Simply rich and creamy! Best of all easy and delicious. Creating the ultimate caramelized and creamed onions in one dish. Using 6 RSC ingredients adding only 1 tablespoon of butter to caramelize them, then to help keep the fat down, the moisture from the onions is released and reduced they continue to cook in the broth adding it's flavor. Kaluha is the SECRET ingredient that will have your guests asking what is that? They will never guess! Serve these savory onions as a side, pile them high on a sandwich, steak, burger, or mashed potatoes, top a pizza, on slices of fresh French bread garnished with fresh herbs for an appetizer. Now don't they sound YUMMY?

This was fun and easy to make - everyone seemed to get a kick out of the fact that there was Kahlua in it. Would make it again.
1

tablespoon butter

2

large red onions, peeled and sliced into 1/4 inch rings
1⁄4-1⁄2 teaspoon minced jalapeno (optional)

1

tablespoon brown sugar
1⁄4 cup Kahlua
1⁄3 cup low-sodium low-fat chicken broth
1⁄4 cup heavy cream
In a hot non-stick pan melt butter till sizzling.
Add onion rings and sprinkle with sugar and pinch of salt. Lower heat to medium and cook for 5 minutes stirring often; add minced jalapeños to taste and continue to stir and cook for 3 minutes.
Add chicken broth to deglaze, stirring releasing intensely flavorful browned bits on the bottom of the pan.
Add Kahlua and let all reduce to just glaze the onions.
Lower heat to low and add cream stirring in to combine.
Season with salt and pepper.