lazyme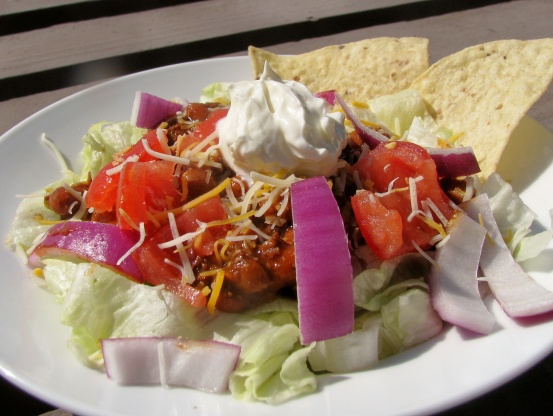 This is a recipe I used on Weight Watchers. It actually tastes really good! 256 calories, 6 grams of fat, 6 grams of fiber

This is such a good salad, I've made it several times. I use pinto beans instead of kidney bc pinto seems more authentic Mexican, though I suspect they eat kidney beans in Mexico. I serve it like haystacks, chips on bottom, layer of lettuce, then this plus cheese. When I mixed it all together it was hard to judge how much lettuce to add making it too dry. Plus if you have leftovers you don't have to worry about soggy chips or lettuce. Very good the second day too.
15

ounces canned turkey chili

6

cups tossed salad greens, with
tomatoes, and
1⁄4 cup low fat shredded cheddar cheese
Heat turkey chili in microwave for 2 minutes, stirring halfway through.
Spoon half of turkey chili onto tossed salad.
Top with cheese.