Low Fat Morning Glory Muffins
Calee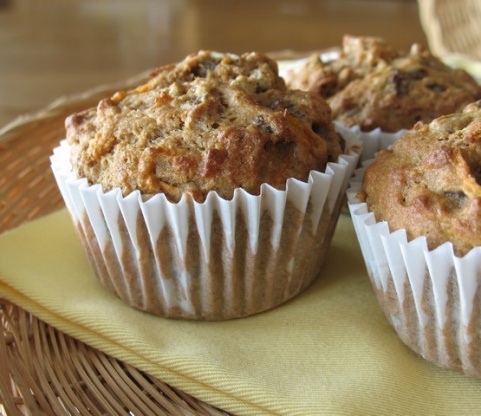 Lovely muffins packed with succulent bits of raisins and carrot, studded with crunchy sunflower seeds, and permeated with the flavors of orange and cinnamon. Served with fresh fruit and scrambled eggs, these are great for a special breakfast!

Top Review by Calee
Awesome muffins. I couldnt tell that there was whole wheat flour in these muffins. Love the sunflower seeds in them. I buy raw sunflower seeds and roasted them in the oven 300 degress for 20 minutes. I also soak the raisins in boiling water for a few minutes. At 375 oven mine baked in 18 minutes and I got 12 nice sized muffins. Thanks for sharing this recipe. Made for the Lite and Low challenge in the photo fourm.
Combine dry ingredients (flour through cinnamon) in large bowl.
Whisk together egg and oil till smooth in medium bowl.
Add all remaining ingredients (except raisins) and whisk till blended.
Stir in raisins.
Add wet ingredients to flour mixture, and whisk just until combined.
Divide batter among 12 sprayed or lined muffin cups, filling cups nearly full.
Bake at 375°F until muffins have risen slightly and are golden brown, 25-30 minutes.
Serve warm, refrigerate, or freeze.