Low-Fat Cauliflower Tomato Casserole
Derf2440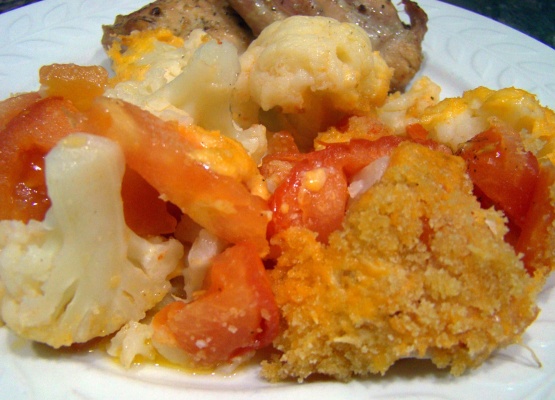 A wonderful casserole side we enjoyed very much! Had to use parmesan and cheddar had no Swiss in and used a little olive oil instead of the butter and just a couple of tablespoons of breadcrumbs. Great way to serve cauliflower, DH loved it, thanks for posting.
Preheat oven to 350F.
Place cauliflower in a steamer basket over boiling water.
Cover saucepan and steam 4-5 minutes or until cauliflower is almost tender.
Arrange cauliflower in a buttered shallow baking dish.
Arrange tomatoes over cauliflower.
Sprinkle with salt and pepper.
Combine cheeses in a bowl and sprinkle over cauliflower mixture. Sprinkle with breadcrumbs, drizzle with butter and bake 20-25 minutes or until top is golden.