Low-Fat Beef and Bean Tortilla Bake
teresas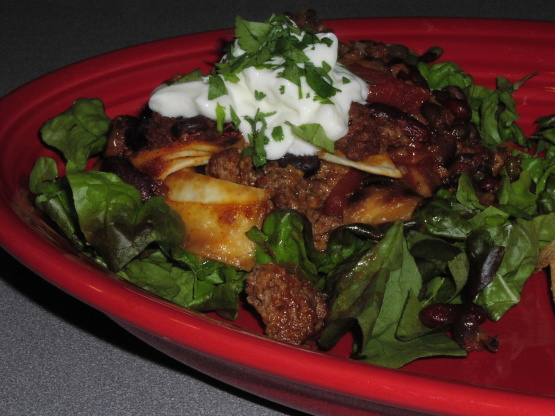 I found this recipe in a little betty crocker magazine called simple healthy meals. This recipe is so good because it is made with on hand ingredients so I use this as an easy, last minute idea when I cant think of anything to make for dinner. This dish is very healthy and doesnt taste like it is. The few changes I make to the recipe are I just use all black beans, since they are healthier than pinto beans. I use extra sharp full fat cheddar, you dont need very much anyways being extra sharp so why not? And I like to add a can of my favorite el pato tomato sauce (yellow can) to the meat mixture also. And also I just lay out the tortillas tearing them so they fit in the pan. the strips are extra work I dont think that is neccesary. I like to serve this with a little bit of sour cream.

I make this recipe last week. I loved it! I will be making it again tonight. I used jalepeno & cheddar wraps instead of tortillas. I also Ro-tel diced tomatoes w/green chiles and Ro-tel tomato sauce. I don't like things too spicy. This had jsut the right abount of heat. YUMMY! I am looking forward to dinner tonight!
Heat oven to 350 degrees. In 12 inch skillet, cook beef over medium heat 8-10 minutes, stirring occasionally, until brown; drain, stir in beans, tomatoes, seasoning mix and water. Cook 2-4 minutes. stirring occasionally, until heated through. Stir in 1/2 cup of cheese.
In an 8 inch square glass baking dish, spread 2 cups of beef mixture. Top with half of the tortilla strips. Spoon half of the remaining beef mixture over strips. Add remaining tortilla strips; top with remaining beef mixture.
Bake uncovered about 30 minutes, until bubbly and heated through. sprinkle with remaining cheese and bake 5 minutes longer, until cheese is melted.