Low Carb Mexi Baked Chicken
Pamela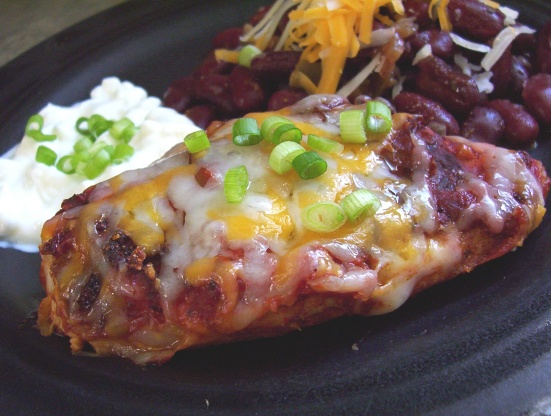 Another personal South Beach Diet friendly favorite of mine. It's flavorful and easy to throw together, bakes in less than 1 hour. I serve this with a side of my Mexican Jumping Beans. For the taco seasoning, I like to make my own (no sugar added; there are plenty of taco seasoning Zaar recipes to choose from, if you would like to make your own.

Such a simple recipe but yet SO GOOD. I sprinkled salt on both sides of the chicken, did 4 chicken breasts. Didn't really measure the seasoning I just kept sticking a 1/2 TBL scooper in the package and seasoned both sides of each chicken (so I'm not sure how much I used, probably more than called for but it was tasty!!) and I used about 1/2 a jar of salsa and I did bake it covered with foil so the chicken wouldn't dry out. I think I might add black beans like another user did and fiesta cheese makes this so yummy!!! We had spanish rice and re fried black beans. Thanks!!!
Preheat oven to 375 degrees.
Spray a shallow, small baking dish with non-stick spray.
Coat chicken lightly with taco seasoning, on both sides; spoon salsa over top of breast.
Bake, uncovered, about 45 minutes.
Sprinkle cheese on both breasts evenly; bake for another 5 minutes or until cheese is melted through.