Low Calorie Chicken Curry
KateL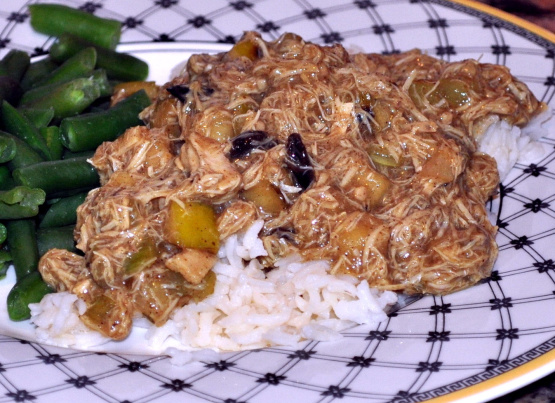 This recipe is quick and easy....it uses leftover cooked chicken. Add more salt if you feel it needs it!

Top Review by KateL
4.5 stars, DH loved this wholeheartedly, but there seemed to be too much cinnamon compared to the curry for me. This recipe reminded me of British-style toned-down curries like the ones MDM used to make. I loved how easy this was too cook, and that I had all of the spices already. I used this as our "beginner" curry to gauge how willing DH and I were for amping up the spice. DH said he is ready for the next step. Thanks, this made a quick dinner. Made for The Wild Bunch of ZWT8 for its trip to India.
Heat the oil in a large nonstick skillet over medium heat until hot. Add the apple and the next 8 ingredients. Cook 5 minutes, stirring constantly.
Combine the cornstarch and chicken stock, stirring until smooth. Add to the apple mixture. Stir in the cooked chicken and raisins.
Bring to a boil; reduce heat to medium, stirring constantly until thickened. Serve over rice.