Annacia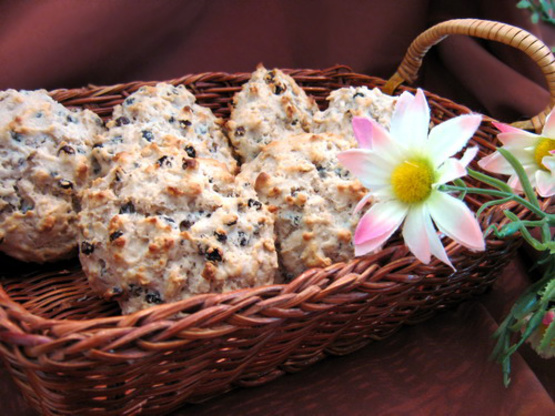 Not as high fat as a regular scone but yummy just the same. This recipe does not make a huge amount so it's great for singles. Dried cranberries can be substituted for the raisins for variety.

I don't know how much 2 1/4 oz's of oatmeal is in a measureing cup so I used 1/2 a cup. I don't think that was enough because I needed to add in another 1/2 cup of mix or had a scone pancake. I used 1 Tbsp of Splenda Brown Sugar and added 2/3 tsp of Penzey's Cake Spice. The fruit was currants. The time was off for me and they took about another 8 mins to bake nicely. The scones ended up being simply delicious and I got 7.
Preheat oven to 425.
Whisk together oats, baking mix, baking powder and sugar.
Stir in milk and fruit just until combined.
Drop dough by 1/4 cup measure onto non stick baking pan.
Bake 8 to 10 minutes until golden brown on top.