Lime-Ginger Tofu Cheesecake (Nondairy)
Jostlori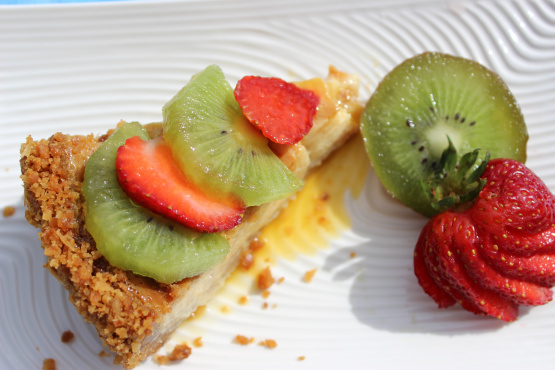 This was an entry for a contest that didn't turn out well. Any suggestions for improvement would be welcome. Cook time does not include cooling and refrigeration time.

I do love tofu, but like another reviewer mentioned - there is an aftertaste. I'm not sure it was the tofu - perhaps it was a bit too much lime zest. Also in agreement that a bit of vanilla might help. The pie also didn't set up as well as a regular cheesecake and I had to greatly increase the baking time. All that being said, I thought it had a nice tangy freshness, and the crust (with the coconut) was a nice change and was delicious. I'll definitely have to keep the crust in mind for my next cheesecake! I'd like to try this again and tweak it a bit. Thanks for posting!
Drain tofu and place between several layers of paper towels on large plate. Place a heavy pan or plate on top and let sit for about 30 minutes.
Preheat oven to 350°F Coat a 9-inch spring form pan with nonstick cooking spray.
In a blender, add graham crackers, coconut and sugar and pulse until crackers are reduced to crumbs. Put crumb mixture into a bowl and with fingers, mix in melted margarine until incorporated completely. Put crumbs into prepared spring form pan and press firmly over bottom and part way up sides . Set aside.
Zest one of the limes and juice both limes and place in the blender. Crumble drained tofu into blender and add remaining filling ingredients. Pulse a few times and then turn on puree speed and blend until smooth and creamy.
Pour into prepared crust and bake for 45-60 minutes, or until small cracks start to form around edges. Do not overbake.
Remove from oven and cool on a wire rack for 30 minutes. Remove sides of pan and let cool completely. Cover and refrigerate for 2 hours.
Serve with nondairy whipped topping or peeled and sliced Kiwi fruit or strawberries.