Light Cranberry Pear Sauce
jenne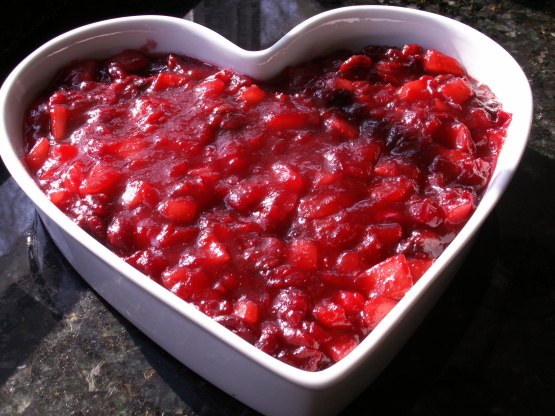 This is a light recipe from Martha Stewart which I have changed slightly. The addition of the cherries, pears and fruit juice adds natural sweetness which allows you to decrease the amount of sugar from the traditional cranberry sauce recipes. Sounds delish and I bet a pinch or two of ginger would be fabulous in here as well.

Made a double batch of this sauce to include in my holiday gift bag, & am I ever glad I did (make the recipe, that is!) 'cause THIS IS GREAT TASTING STUFF! Initially I didn't think that 1/2 cup of sugar would be enough, but it was! When finished cooking, I filled 8-oz jars & refrigerated them, for the several days before they're to be given out! Thanks for such a great addition to my holiday gifting! [Tagged, made & reviewed as a PRESSIE in the Aus/NZ 12 Days of Christmas Recipe Swap]
In a medium-size, heavy-bottom non-aluminum saucepan, combine cranberries, pears, sugar, dried cherries, cinnamon and juice. Bring to a boil over medium heat.
Reduce to a simmer and cook, stirring frequently to prevent scorching, until berries have popped and are tender, about 10 minutes.
Cool to room temperature. Cover and refrigerate until chilled.