Lentils and Rice (Koshary) (Egypt)
JustJanS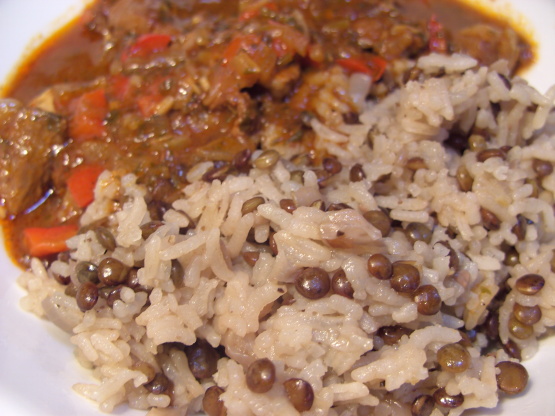 Yet another recipe I discovered on the "World Hearth Circle of International Cooking." This looks promising as a meatless main dish or a side dish.

I haven't made this yet, but other recipes I have seen have a spicy tomatoe sauce on top, then garnished with crisp fried onions. This seems like it would be better with the sauce. Maybe if I combined two recipes? hmmmmm....
Heat oil in pan, add onion and fry for 3 minutes.
Add lentils, water, pepper and cumin.
Bring to a boil and simmer for 5 minutes. Add 2 cups water and bring to a boil.
Add rice and salt and continue to boil.
Then reduce heat to low, cover the pan and simmer for 15 minutes.
Remove from heat and let sit for 10 minutes. Serve.