Prep 10 mins
Cook 20 mins
Recipe source: Prevention Magazine
Directions
In a large pot over medium high heat saute the onion in the oil (5 minutes). Stir in chili powder and salt.
Stir in lentils and water and bring to a boil. Reduce heat to medium and simmer for 5 minutes.
Stir in tomato sauce, carrots and celery. Simmer 10 minutes.
Stir in beans and simmer for another 5 minutes.
Stir in cheese and cilantro and season to taste with salt and pepper and serve topped with sour cream if desired.
Reviews
Most Helpful
Very good! I omitted the salt (personal preference) and used tomato paste instead of the sauce. Loved the mild smoky flavor from the gouda. Thanks for sharing!

Fabulous soup! I wouldn't change a thing next time, but this time I put in 1 1/2 teaspoons chili (2 would have been fine), did use great northern beans, parsley instead of cilantro, and since I had tomato paste but not sauce, I put in about 3 ounces of that. Really yummy, it's going into my quick and easy cookbook! Cheese was great in this. Looking forward to leftovers for lunch. Thanks so much ellie!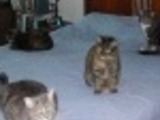 The only change I made when making this soup was to use just 1 1/2 teaspoons of the chili powder, but that was all! I like lentil soup quite a bit, & especially enjoyed this one, since the beans & the cheese gave it all an added boost! Thanks for sharing the recipe! [Made & reviewed in Newest Zaar tag]