HisPixie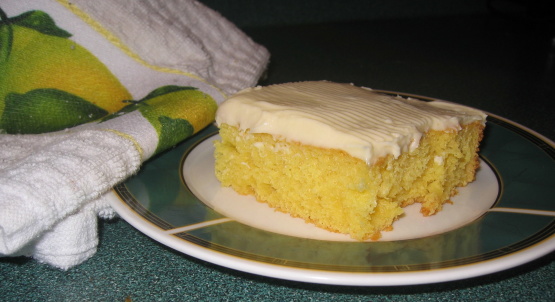 A really delicious, moist cake with alot of lemon flavor. Quick and easy to prepare.

Hi Domestic Goddess, made your lemon cake this weekend, it was simply too yummy, very moist and very lemony, I took Theresa's advice, and added lemon rind (lot's of it), probably the rind of one half of a lemon, then I squeezed about 1 Tbsp fresh lemon juice into the batter...it was delicious, I took it over to a get-together this weekend, and I believe that there was nothing left, everyone just loved it, the frosting was great also. Thanks so much Goddess for posting such a wonderful cake recipe, I will be making this again....KC :-)
Preheat oven to 350 degrees.
In a large mixing bowl, add the 4 eggs; beat for at least 30 seconds.
Add the lemon cake mix, mix until incorporated.
Add the can of lemon pie filling; mix until blended well.
Spread into a greased 15x10x1-inch baking pan.
Bake for 20 minutes.
Cool before frosting.
In a small mixing bowl, beat cream cheese, butter and confectioners' sugar until smooth (do not add milk).
Stir in vanilla extract.
Spread over cake; then refrigerate until frosting hardens up abit.
Note: This recipe originally calls for (16 oz.) of a canned lemon pie filling, but I used a (22 oz.) can for the recipe.