Jen T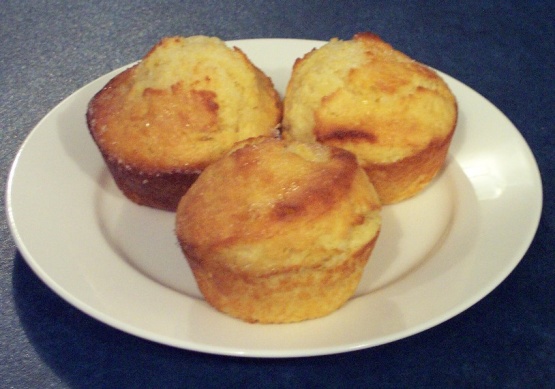 A nice light lemon flavoured muffin that is good to have for morning or afternoon tea, or, as a dessert served with some whipped cream and maybe some fresh berries.

This is a wonderful light muffin, and it is very forgiving. When I made it I made two mistakes, one involving the melted butter and cold milk, the other was reading the temperature incorrectly. It didn't matter, I adjusted the temperature after cooking for 10 minutes, cooked it a little longer and it turned out fine. I will try this again with limes and also with oranges.
Toss the 1st measure of sugar & flour together in a bowl.
Beat with a fork the melted butter, milk and egg until well combined.
Add the lemon zest & stir to mix .
Add the liquid to the dry ingredients and mix carefully until just combined.
Spray 12 medium size muffin tins with non-stick spray and then divide mixture evenly between them.
Bake for 10 - 15 minutes at 200 degrees Celsius (depends on your oven).
Meanwhile stir together the 2nd measure of sugar and lemon juice without dissolving the sugar.
Pour over hot muffins as soon as they come out of the oven.
Leave for a couple of minutes but do not leave too long in tins as they may stick.
Enjoy.