Lemon, Garlic and Basil Shrimp Skewers
gailanng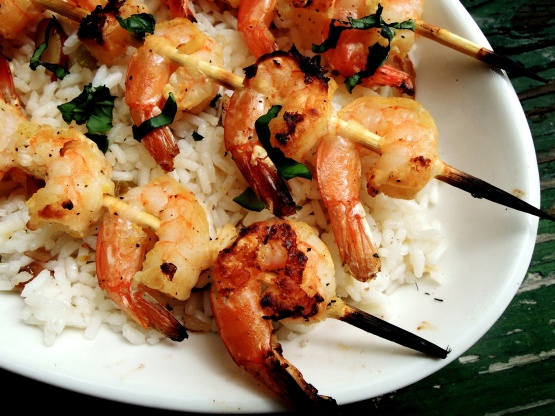 Use this recipe as a template for other shrimp skewers. If you don't have honey mustard, stir a little honey into Dijon. Limes would also work well instead of lemons. And if you're finding your home-grown chives or parsley getting out of hand, substitute them for the basil. These need to marinate for 45 minutes before cooking. Recipe developed for Food and Drink by Heather Trim.

How many of these can I eat? Let's see...5, 25, no a billion. I'll see ya later, I've just started eating and I've just polished off my first 2. I have a ways to go. Made for ZWT#8~Australia/Family Picks.
In a medium bowl, whisk lemon juice with oil, mustard, garlic and lemon peel.
Add shrimp and stir to coat.
Marinate, covered and refrigerated, for about 45 minutes.
Grease grill and preheat barbecue to high.
Thread shrimp onto skewers and sprinkle both sides lightly with salt.
Place on grill and barbecue until shrimp are pink, about 1½ to 2 minutes a side.
Remove, place on a platter and sprinkle with basil.