Lemon Butter Curry Catfish
ALMjoy7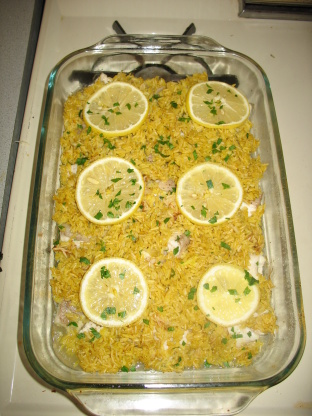 My mom once owned a stake in a catfish farm called Delta Pride. It stalled and sputtered and eventually went belly-up (excuse the pun). But we did get some great catfish recipes along the way, like this one from The Catfish Institute. Cheap, easy and good! The buttery, lemony rice is irresistible!
Rinse the fish and pat dry, then cut into bite-size pieces. Arrange in a well-greased baking dish and season with salt and pepper.
Stir together the rice, onion, and curry powder and spread over the fish. Top with lemon slices and dot with butter.
Bake at 350 degrees until fish flakes easily, about 25 to 35 minutes. Uncover for the last few minutes for any moisture to evaporate. Sprinkle with parsley and serve.