Leftover Pork and Bean Casserole
diner524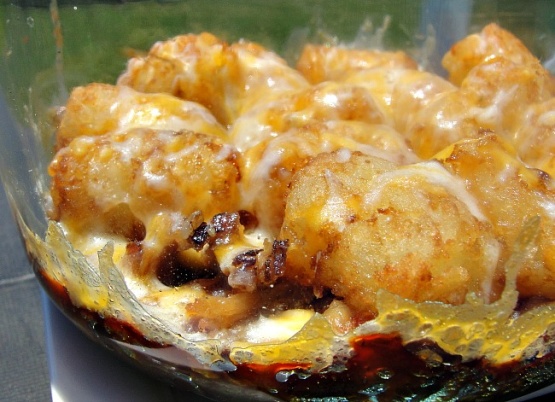 I had some leftover barbecued pork taking up room in the freezer, so I combined it with some other ingredients and came up with this casserole. It was so delicious I just had to share! Hope you enjoy!
This is a great and fun way to make a casserole out of leftovers!!! Both of my kids(now 22 and 26 yo) would love this for dinner. During PAC I made potato salad and burgers from my PAC babies and then decided to make some homemade baked beans to serve with them. Then later that week I made a pork roast with mashed taters/gravy, which I had one slice of the pork leftover in the fridge. So when looking for a recipe to make as a, "Thank You to my wonderful PAC Mommy", when I came across this recipe is was the perfect choice!!! Thanks for being such a great PAC Mommy and for coming up with such a great tasting casserole!! I made a scaled back version (to serve one person) and didn't add the cheese until I took the cover off and put it back in the oven, yummy!!!
Preheat oven to 350°F.
Combine beans, pork and jalapeno in an 8"x8" casserole dish.
Layer shredded cheese on top of bean mixture.
Layer tater tots on top of cheese.
Cover with aluminum foil and bake for 30-35 minutes.
Uncover and bake for 10 more minutes.
Serve hot.