GaylaJ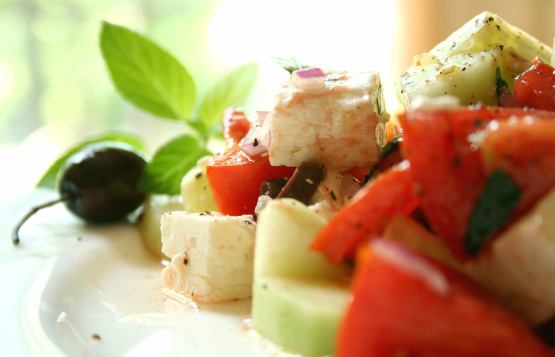 Adapted from the oh-so-useful The Healthy Kitchen cookbook by Andrew Weil and Rosie Daley, which especially focuses on the healthy Mediterranean cuisine. I omit or reduce the olives (too much sodium), reduce the cheese (same reason) and omit the extra salt. People who don't have to watch their blood pressure probably don't have to follow these restrictions. I do use plenty of pepper. I also add a bit of minced bell pepper (any color, because I love it). Sometimes I add oregano, basil or rosemary. It's a great lunch stuffed into a whole wheat pita. The passive "cooking" time is actually the chilling time. P.S. The original recipe only has 1 clove garlic.

This was great! Went really well with the Lebanese spinach and meat pies and pita brought yesterday to a group lunch. I might've overdone the garlic-- we all needed gum/mints afterward. But it was worth it. I used more olive oil than called for; probably a 2:1 ratio of oil to lemon juice. The mint is really critical to this dish (in my humble opinion). It brightens and enhances all the other flavors.
Toss cucumbers thru cheese in a bowl. Add salt and pepper to taste.
Chill at least 3 hours.