Lazy Day Brunch Casserole (Crustless Quiche)
Redsie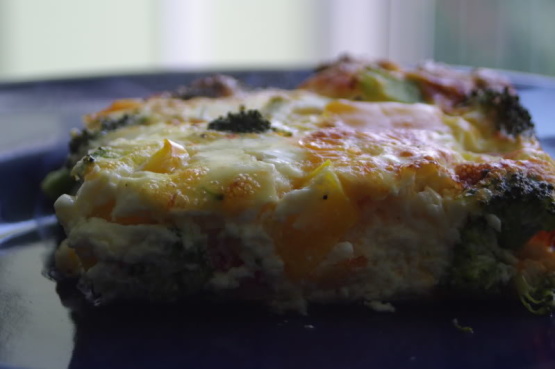 This is a very simple, but delicious brunch casserole - almost like a crustless quiche. We had this for our Lazy Day New Years brunch (our guests come in pajamas and stay that way all day - hence the name). It's very colourful and quick to throw together, especially if the cheese is grated and broccoli is chopped the day before. Don't chop the tomatoes ahead of time though as they tend to get soggy and lose flavour if refrigerated.

Hubby says a solid 4 of 5; why not 5? Well, its quiche, and he's 63 and from the generation that real men don't eat quiche, hAha. We didn't add tomatoes (served them sliced as a side) but we added diced ham and a couple of shakes of hot sauce and black pepper to give it more kick. Quick, easy Friday pm dinner with those side tomatoes I mentioned plus biscuits, It was quite good!
Preheat oven to 350°F.
Mix milk, flour and eggs well.
Add the remaining ingredients and pour into 8 X 8 greased baking dish.
Bake for 40-45 minutes.
Let sit 10 minutes before serving.