Lazy Cook's Golumpki (Stuffed Cabbage)
Boomette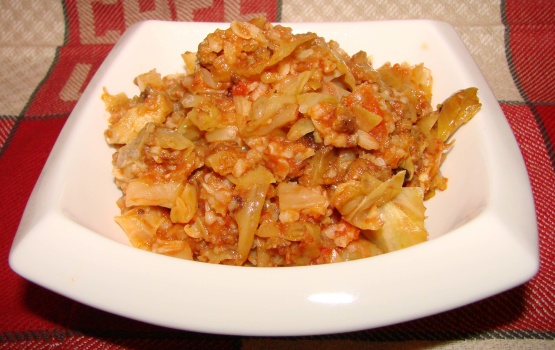 Easy crockpot recipe with all the great flavors of Polish golumpkis.

I was glad to see a recipe similar to what I make to give to a friend because I, like my gram, never measured anything! I quarter a whole cabbage and precook it till 1/2 done then put the filling ontop of it. I don't use vinegar or ketchup instead I use a can of undiluted tomato soup& I drain a can of sauerkraut and lay it over the top of everything before cooking. I add more cut up canned tomatoes and tomato juice because I like alot of tomatoes.,my preferance.
Cook beef and onion until done, drain.
Add to remaining ingredients in crockpot. Cook over low 4-8 hours.
I make the day before (refrigerating) and when leaving for work turn on the following morning.