DuChick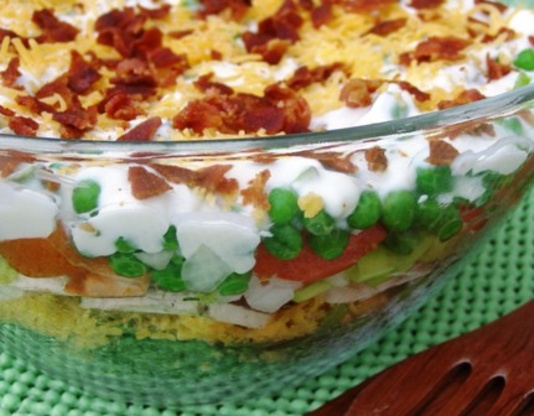 A little fresh basil in the dressing brings this make-ahead salad up-to-date. Substitute torn romaine lettuce for the spinach, if you like. For a dramatic presentation, serve this salad in a clear glass bowl. The salad must refrigerate for 5 hours, which is included in preparation time. This recipe is by Kraft.

Oh, this is so good! I lightened the calories and fat content by using 2% cheese, FF mayo and FF sour cream. I subbed the red onion (ran out) with green onions and also added a tsp. of Splenda to the dressing mix. It seemed like it needed a bit of sweetness. Beautiful presentation in a glass bowl and so easy to throw together! Thanks Lainey! Be sure to let this sit to allow the flavors to mingle! MERP'd for Photo Tag.
Layer spinach, 1 cup of the cheese, the mushrooms, onions, tomatoes and peas in 3-qt.serving bowl.
Mix mayo, sour cream and basil.
Spread over salad, completely covering top of salad (gently spread the mayonnaise mixture over the entire salad, sealing to the edges to lock in the taste).
Cover.
Refrigerate at least 5 hours.
Sprinkle with remaining 1/2 cup cheese and the bacon just before serving.