Pixie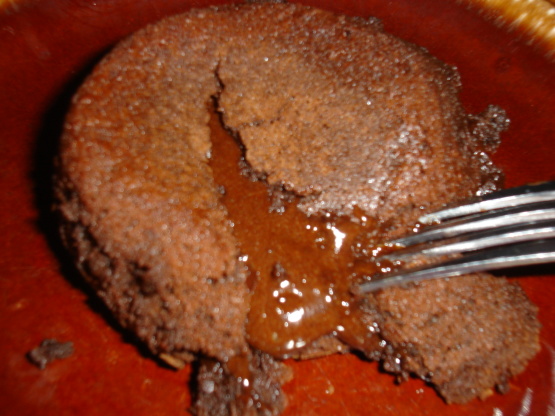 This is so rich and decadent. It is pretty enough for a dinner party, but my kids start running around w/pure joy when they see the ramekins come out of the cupboard! If you don't over bake them the centers should be like hot fudge. YUM.

Superfast and supereasy, but I cooked mine too long and they weren't very gooey - will take them out sooner next time! I also made the recipe for 1.6 servings to use one egg and make just 2 ramekins for my partner and I.
Heat oven to 400°F.
Grease and flour seven, six ounce ramekins or custard cups.
In sauce pan melt chocolate and butter until smooth, stirring constantly.
In medium bowl, combine eggs and syrup.
Beat with electric mixer till foamy.
Gradually beat in sugar till light and thickened (about 2 minutes).
Add flour and chocolate mixture stirring just enough blend all ingredients.
Fill cups to 3/4 full, then place ramekins on cookie sheet.
Bake at 400°F for about 11-15 minutes.
They should just form a top crust.
Cool for 5 minutes and then invert onto plate.
Dust tops with powdered sugar and serve with ice cream.