Lamb Stew With White Beans
katew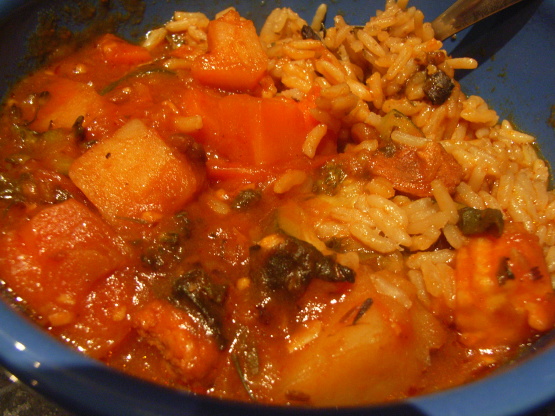 Taken from The New Portuguese Table by David Leite http://leitesculinaria.com . I love working out of this book! The recipes are laid out beautifully, and work very well. This lamb stew is full of hearty flavorful ingredients, sure to fill you up on a cool evening or after a hard day's work. This takes a couple of hours, plus marinating time; but is well worth the time invested!

Top Review by katew
I put all this in my crock pot with some extra diced potatoes to help soak up the juices. I cooked it on high for 4 hours and served it with rice. Just the parsley on top was missing. DD was wanting to eat it at 3pm as it smelled so great. Lamb was really, really tender. Made for ZWT8.
1814.36

g lamb shoulder, excess fat and sinew removed, cut into 1 1/2-inch cubes

354.88

ml orange juice

6

garlic cloves, minced

1

piece ginger, 4 inches long peeled and grated

236.59

ml fresh mint leaves, chopped
salt and pepper

29.58

ml olive oil, plus more if needed

29.58

ml all-purpose flour

709.77

ml beef stock

354.88

ml dried navy beans, rinsed and soaked overnight or 709.77 ml canned cannellini beans, rinsed and drained

8

carrots, peeled and cut into 1/2 inch slices

2

cinnamon sticks (3 inches each)

14.79

ml fresh oregano, chopped

9.85

ml coriander seeds, crushed

4.92

ml ground cumin

4.92

ml lemon zest, grated

29.58

ml lemon juice

473.18

ml canned chopped tomatoes, drained and cut into small pieces
fresh flat leaf parsley, to garnish
Toss the lamb with the orange juice, garlic, ginger, and mint in a large bowl. Let marinate, covered, in the fridge for 4 hours.
Dump the lamb into a colander set over a bowl to catch the marinade. Reserve the liquid. Dry the lamb very well with paper towels; if you don't, the pieces will steam, not sear. Generously season the lamb with salt and pepper.
Heat the oil in a large pot over medium-high heat until very hot. Working in 3 or 4 batches, sear the lamb pieces, stirring occasionally, until browned, 8 to 10 minutes. Using a slotted spoon, transfer to a bowl. Return all the lamb to the pot, sprinkle with the flour, and stir to combine. Pour in the reserved marinade and the stock. Add the drained soaked beans (if using canned beans, add them in the next step), the carrots, bay leaves, cinnamon, oregano, star anise, coriander seeds, cumin, lemon zest, and lemon juice, cover, and bring to a boil. Reduce the heat to low and simmer for 1¼ hours, stirring occasionally.
Spoon in the tomatoes and the canned beans, if using. Continue simmering, uncovered if the stew is thin, until the lamb is tender and the beans are soft but still hold their shape, 15 to 20 minutes more. Toss out the bay leaves, cinnamon sticks, and star anise. Take a taste and season the stew with salt and pepper, if needed.
To serve, ladle into bowls and speckle with parsley.