Lamb Cutlets With Cheesy Sweet Potato Bake
KateL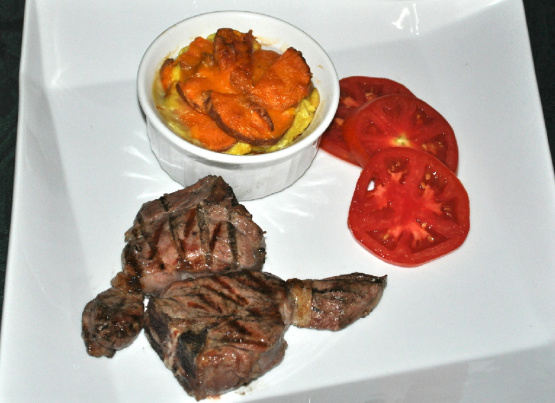 I love lamb but at the moment is very expensive so I can't see this happening any time soon but the the sweet potato bake part also looks very good and could make a great side to another meal, from Australian BH&G Diabetic L:iving.

Top Review by KateL
Very tasty and quick. Because the sweet potatoes are a starch, I did without the string beans and corn. Due to our extreme heat, I did not cook any additional vegetables; rather, I sliced some ripe home-grown tomatoes. Our 4 lamb cutlets began as 1.25 pounds, and consequently took longer than 2 minutes per side; by custom, I check with a meat thermometer. We welcomed the different presentation of the sweet potatoes. Next time I will use a mandolin to slice the potatoes more uniformly. Made for Please Review My Recipe tag.
Preheat oven to 180C(fan forced).
Put the sweet potato in a large shallow microwave safe dish and add 60ml (1/4 cup) water and cover and cook on high (100%) for 7 minutes or until the sweet potato is just tender and drain well.
Put the eggs and milk in a small bowl and season with pepper and whisk to combine.
divide sweet potato between 2 x 250ml (1 cup) shallow ovenproof dishes and then pour egg mixture over the sweet potato.
Put the dishes on a baking tray and sprinkle with cheese and bake for 20 to 25 minute3s or until the egg is set and top is golden brown.
Meanwhile preheat a chargrill pan on medium high and spray each side of lamb cutlets with cooking spray and then cook on the chargrill pan for 1 1/2 to 2 minutes per side for medium or until cooked to your liking.
Transfer to a plate and set aside for 2 to 3 minutes to rest.
Serve the cutlets with the sweet potato bake and steamed vegetables.