Kyx Yummy Cream Cheese Breakfast Treat Aka Orange Bread
Goat mom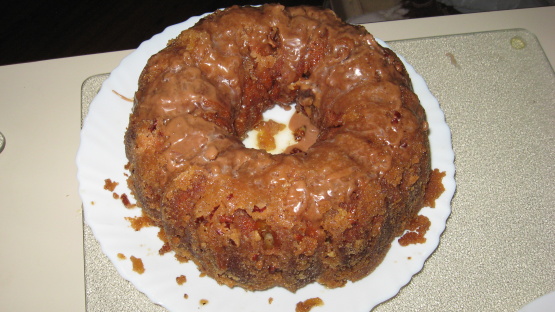 This is one of my most requested and loved recipes. We host FSU's Christian Fraternity Kappa Upsilon Chi retreat at our property twice yearly. This is part of our Sunday morning breakfast along with hash brown casserole and fresh fruit salad. I've made up to four feeding 38 young men. The original recipe came from Southern Living Big Book of Christmas Baking. It's really an assembly project and requires no baking experience.

Since we have a household of two, I made half of a recipe and used my smallest loaf pan. Clearly, 375 was too hot as the biscuits did not rise. The flavor was good. Will try again at a lower temp before giving any stars.
236.59

ml sugar

177.44

ml pecans, chopped

9.85

ml orange peel, I use McCormick

2

(20 count) package refrigerated biscuits, containing 10 each

226.79

g package cream cheese, you will not use all in this recipe

118.29

ml butter, melted

236.59

ml powdered sugar

2.46

ml cinnamon

29.58-44.37

ml water
Combine sugar, pecans and orange peel in small bowl.
Melt butter in small bowl in microwave.
Cut cream cheese into 20 pieces the size of butter pat. Seperate each biscuit in half part way and place cream cheese piece in and pinch edges back together. Do all 20 biscuits.
Then dip in melted butter and dredge in sugar, pecan mixture. Stand upright in lightly greased 12 cup bundt pan, space evenly. Drizzle any remaining butter over and sprinkle with any remaining sugar,pecan mixture. Bake at 350-375°F for 45 minutes or until golden brown. Immediately invert onto plate.
Combine powdered sugar, cinnamon and water, stir well. Drizzle over hot bread. Serve warm.