Kittencal's Restaurant-Style Chinese Sweet and Sour Sauce
Kjhoek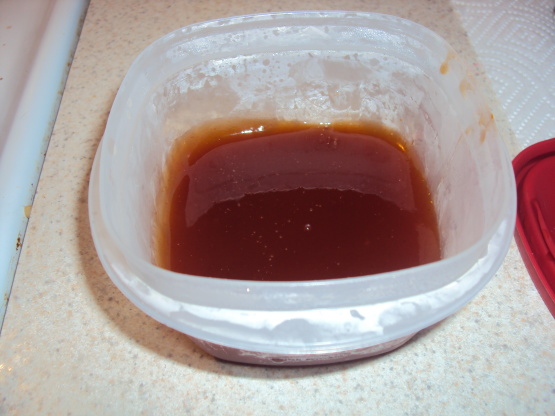 I needed a homemade sweet and sour sauce to use in recipe #174747 and settled on this one. I started out by using a full cup of pineapple juice and cutting back on the white sugar by a few tablespoons and added a little powdered ginger, but otherwise kept everything the same, at first. When I mixed in the cornstarch, however, I added about a half cup additional water, and even then, the finished sauce was still too thick. The flavor was just what I wanted though, but next time I'm cutting the amount of cornstarch in half or so. I like a very tangy, moderately-sweet sauce with a medium body to it, this was a bit thicker than I prefer, but otherwise delicious.
1⁄2 cup ketchup

1

teaspoon regular soy sauce
1⁄3 cup white vinegar
1⁄2 cup brown sugar, lightly packed

1

cup white sugar (can reduce a 2-3 tablespoons for a less sweeter taste)
3⁄4 cup cold water (or can use unsweetened pineapple juice or half each, I prefer the pineapple juice)

3

tablespoons cornstarch (for a thinner sauce reduce to 2 tablespoons, if you want an very thick sauce use 4 tablespoons)
In a saucepan combine the first 5 ingredients until combined.
In a cup or bowl whisk the cold water with cornstarch or pineapple juice until smooth and combined, then whisk in ketchup mixture; bring to a boil stirring or whisking constantly over medium-high heat until bubbly and thickened (the sauce will continue to thicken more while simmering).
Cool slightly and use immediately or refrigerate.