Kittencal's Creamy Italian Salad Dressing
WiGal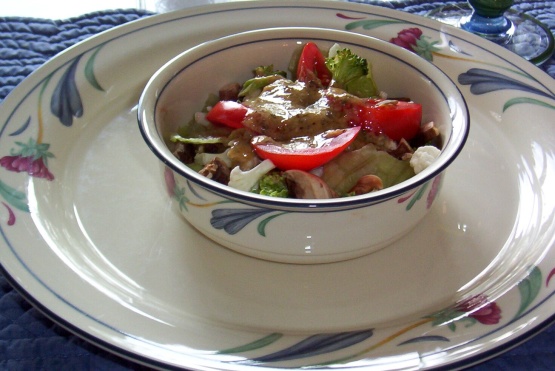 This dressing must chill for 6 or more hours before serving don't even think about serving it right away as the flavors intensify with chilling time, even better if made a day ahead, I have left the Parmesan as optional you may add in or omit, you may adjust all amounts to taste.

My Dh loved this. I made as written, mabey a touch on the heavy side w/ the seasons but not to heavy. i tend to have a heavy hand. This was very good. I did make it in the blender so it was very easy. I did use 3 tsp of sugar ( tried to stay in the middle of the road). My DS loved this and he doesn't "like creamy italian") he's a purest or so he says,LOL. Will definately make again. My DH loved this and says he prefers this over store bought. Store bought is to thick and has a "funky" flavor. I wonder how it would taste with fresh herbs??? I guess i will see in the summer. Thanks for the winner recipe. I wouldn't change a thing and the thickness suited us just fine. Happy cooking!!!
In a blender or food processor blend all ingredients together (except Parmesan cheese and black pepper) until well blended, starting with 2 teaspoons sugar and adding in more if needed after mixing.
Season with black pepper then mix in Parmesan cheese (if using).
Adjust all ingredients to taste.
Cover, and refrigerate for 6 or more hours before using.