Kittencal's 15 Minute Parmesan Pasta
Redsie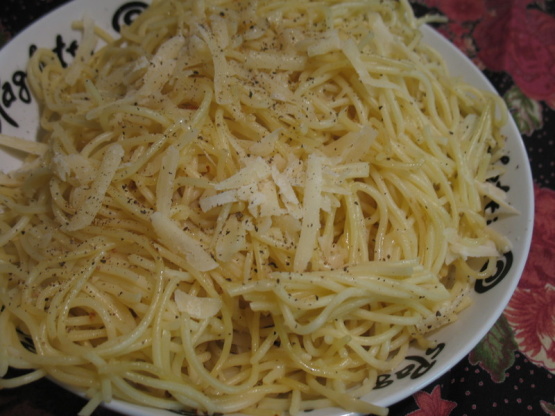 This takes minutes to throw together, I have made this many times on a busy day it's very good for a quick easy meal --- feel free to add in some cooked chicken, shrimp or your favorite veggie to make it a more complete meal --- I have left the chili flakes as optional if you like some heat add them in with the garlic and adjust to suit your heat level., all amounts may be adjusted to taste.
Yum! I made a half recipe, used a lot of garlic and did half oil/half butter. Left out the red pepper flakes b/c of the little kids. Liked this with grilled chicken. Thanks for an easy and quick side dish!
Place the cooked pasta in a bowl; keep warm (do not rinse pasta).
In a small skillet saute the garlic in olive oil until golden and tender (try not to burn the garlic) then pour the oil with the garlic over the cooked pasta.
Season with salt and lots of black pepper.
Add in the Parmesan cheese; toss to coat then serve immediately.
Delicious!