Junebug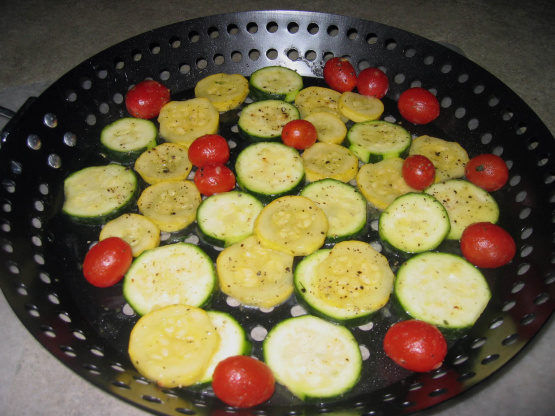 This is a delightful dish to serve during the fresh vegetable harvest time. It can be prepared ahead of time and baked just before serving.

Great dish! Nice mixture of color and taste. Transported to our Thanksgiving dinner. Cut up veggies the night before. Followed recipe exactly except only used 3 zucchini & 5 yellow squash and 1/2 lb. mushrooms. The tomatoes & onion amount I kept the same as the recipe. The 9"x13" pan was HEAPING with veggies. Split them between Two (1 gallon)ziploc bags, melted butter and seasonings, poured onto veggies in bags, sealed and mixed. They sat for 6 hours before I dumped them into the pan and baked them. Enjoyed by all. Fed more than 8 people - and still had some left over. Received compliments from everyone. Thanks Susie! NOTE: Very easy to transport using the ziploc bags.
Clean and cut mushrooms in half.
Slice zucchini and yellow squash in 1/2 slices.
Slice onion into 1/4 inch rings.
Place butter in glass measuring cup or any microwave safe bowl.
Melt in microwave on high.
Add dill, tarragon, salt and pepper to butter and mix well.
Place veggies in flat 3 quart oven-safe casserole.
Pour butter mixture over veggies and toss to coat.
Bake at 325 degrees for 30 minutes.
Vegetables will still be semi-crunchy.
You may bake an additional 15-20 minutes if you prefer your vegetables not crunchy.