Julie's Chocolate Chip Cookies
Pamela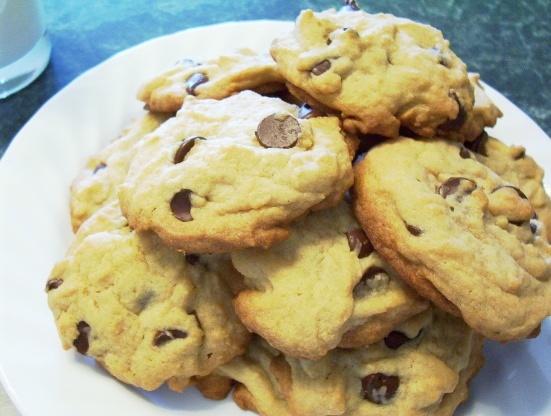 Instant Pudding mix makes these cookies very soft. You can try different variations of pudding mix too--chocolate pudding mix with peanut butter chips, banana pudding mix with white chocolate chips, etc.

Top Review by TGirl
These are so good!! I made banana creme cookies with white chocolate chips..took them to the hospital for my ER clinical rotation and they were gone in a second! Everyone was wanting the recipe, and commenting on how great these were! Only change made was that I added an overripe mashed banana to the sugar/butter mixture, then finished the recipe as written. The banana/white chocolate is a nice change from the normal chocolate chip, peanut butter, or sugar cookies we usually eat...a special treat for these tough days in the ER !! Will be making these MANY times in the future..I love the way we can change pudding mixes to jazz up the same ol' generic cookie !! THANK YOU FOR POSTING!! TERESA
Beat first 6 ingredients together until creamy.
Add next 2 ingredients.
Mix well.
Stir in chocolate chips.
Drop by tsp and bake at 350° for 9 minutes.
Do not over bake!