Julie's Chicken and Greens Soup for Sickies
Julesong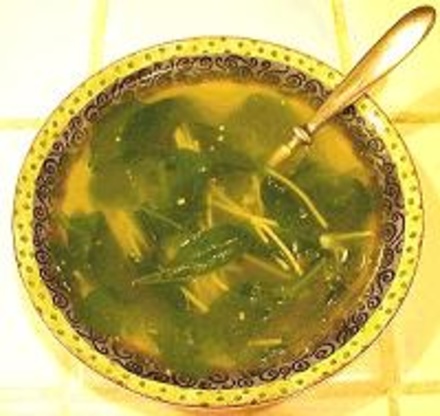 This is really, REALLY easy to make when you're feeling under the weather and want homemade soup. You can make the broth as strong or weak as you like (sometimes when you're sick you just don't want it too strong) and the greens in it are ridiculously easy because they're from salad mix.

You are a genius. How can a few simple ingredients be so good? I used swanson chicken broth and added just a little bit of cubed tofu. I really liked the mixed greens-something I wouldn't have ever thought of. I wasn't sick when I made it but I was sick after eating three bowls! I LOVE THIS SOUP!
Combine the water, bouillon, garlic, and pasta pieces.
Let simmer for 5 minutes.
Add greens and simmer for another 3 to 5 minutes or until greens are to the texture you like.
Serve to the sickie and try to get them to eat as much as they can.
Makes about 2 servings.