Debber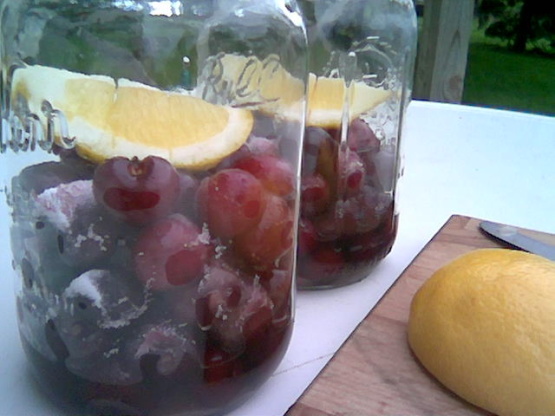 This is a great Cherry Brandy recipe from Spain. All you need is 2 One Quart jars or two pretty bottles that will hold a quart each and about 6 months. The cherries are the most delicious part of this recipe -- be sure to eat them. They are great with Vanilla Bean Ice Cream. The recipe was given to me by my friend from Jerez (Spain). That Amaretto is optional, but highly recommended.

Hey guys, CHERRY PITS CAN BE POISONOUS. Like apple and apricot pits, they contain amygdalin, which metabolizes into cyanide in the body when ingested. (Google it). When you soak them in alcohol for months, most of the amygdalin/cyanide will leech into the liqueur since it's very soluble in alcohol. If you don't drink much of the liqueur, the effect would likely be minimal; mild cyanide poisoning could resemble a bad hangover. In larger quantities, it could be perhaps dangerous. Why risk it? Pit the cherries before soaking them. If you like the bitter almond flavor that the cyanide imparts, add a flavoring - they make almond or bitter almond flavorings with the cyanide removed.
Pierce each cherry three to four times in a row (up and down)on one side of the cherry. I used a sharp skewer. Remove Stems.
Fill each jar half-full with the cherries. Place a lemon wedge in each jar and top each with a tablespoon of sugar and two tablespoons of Amaretto.
Fill jars with brandy. Screw lid on tight and shake to combine.
Put in a cool dark place for 6 months.