Jasmine Rice With Caramelized Green Onions
PaulaG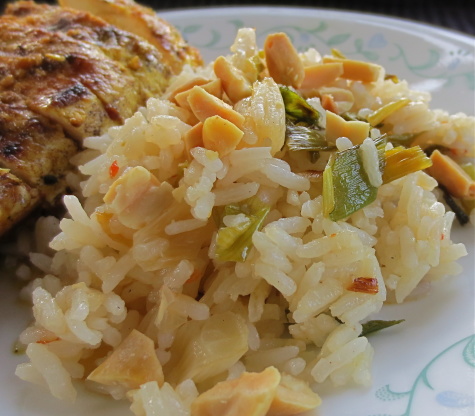 Asian inspired sweet 'n' spicy jasmine rice with caramelized green onions and coarsely chopped peanuts! Now, for the record, I don't like green onions cooked, but caramelizing them is a whole other story. From Canada's Company's Coming. Don't omit the garnishes: coarsely chopped peanuts!

I liken this recipe to an estate sale. I was expecting Aunt Gladys's collection of jelly jars, but found Liberace's grand piano.
If necessary, lightly roasted the peanuts and coarsely chop. You want the peanuts coarsely chopped, not ground!
Place the water, jasmine rice and 1/4 teaspoon salt in a rice cooker and cook. Once done, keep warm.
In a saute pan, heat up the peanut oil on medium-low heat and saute the green onions, garlic and sambal oelek for about 2-3 minutes or just until softened. Stir occasionally.
Increase the heat to medium and add the rice vinegar, sugar and remaining salt. Cook, stirring constantly until the mixture starts to caramelize, about another 3-4 minutes. Do not burn!
Lastly, add the cooked jasmine rice and coarsely chopped peanuts; mix well.