gailanng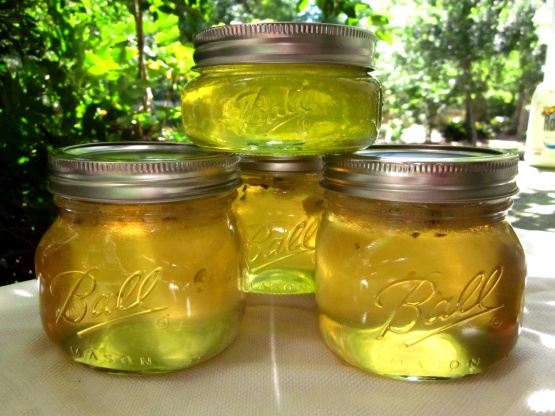 My mother sent me a plant that apparently had mint with it and now it has taken over a small part of my flower beds. Looking for something to do with it all I came upon this jelly. This makes a small batch and comes from "Small Batch Canning" by Topp and Howard.

I haven't completed the recipe yet, but it appears to match several other recipes for the same thing on reputable websites. EXCEPT, I believe that the amount of liquid fruit pectin must be incorrect. I could not find 8 oz packages anywhere, and all other recipes I perused called for 3 oz of liquid fruit pectin for similar quantities of ingredients.
Bring 1 1/2 cups mint and water to a boil in a small saucepan. When I am in a hurry I do not "finely" chop the mint at this point. Remove from heat, cover and let stand for 30 minutes to steep. Strain through a lined sieve pressing with the back of a spoon to extract as much liquid as possible; discard mint.
Combine mint liquid, sugar, vinegar, lemon juice and peppers in a large stainless steel saucepan. Bring to a full boil over high heat and boil hard for 2 minutes, stirring constantly. Remove from heat; stir in pectin and remaining finely chopped mint.
Ladle into sterilized jars and process in water bath for 5 minutes or pour into jars and invert for 5 minutes. Turn back and you should hear the seals pop close.