Sugar Free Jalapeno Jelly With Truvia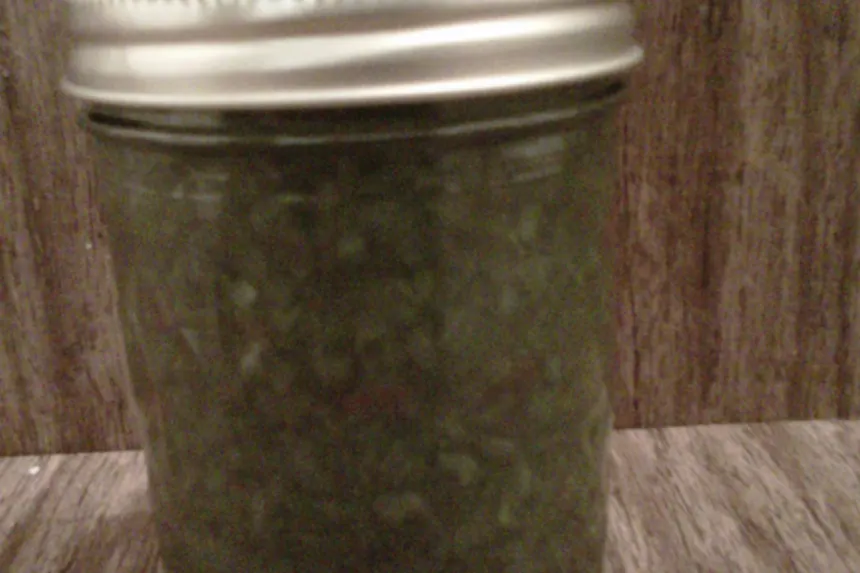 photo by Diane in Nebraska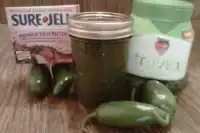 Ready In:

1hr 40mins

Ingredients:

7

Serves:

12
ingredients
10

cups fresh jalapenos, 8 cups when finely chopped

1

green bell pepper, leave out if desired

1

red bell pepper, leave out if desired
1 3⁄4 cups cider vinegar

5 -7

drops green food coloring, leave out if desired

2

(1 3/4 ounce) packages Sure-Jell (No sugar needed type in pink box)

3

cups Stevia Truvia, natural sweetener
directions
Wash and sterilize 12 - 8oz. canning jars. The 12 lids (not the 12 rings) should be place in a pan of water and brought to a simmer, not boiled and then removed from heat. I try to have jars and lids hot and ready at the same time as the jelly.
Make sure you wear disposable rubber gloves to prepare the jalapenos. Rinse jalapenos, cut off stems, cut in half lengthwise and remove the seeds and ribs. I seed the jalapenos under water in a large bowl of cold water to keep the peppers from spraying on my skin or in my eyes. I chopped the jalapeno peppers and the bell peppers in a food processor a few at a time. (Some like to chop the entire jalapeno including the seeds, to make it hotter, but I find the seeds do not chop very well. If you don't mind the seeds this is a much simpler way to make it hotter and to prepare the jalapenos.).
Optional method if you like hotter spicier jelly and don't want seeds in the jelly; try this method: Place all the seeds and ribs from the jalapenos in the pan you will be making the jelly inches Add the cider vinegar, cover and simmer for about 30 minutes, strain the vinegar to use for the jelly and discarded the seeds and ribs. I prefer not so spicy, but my husbands loves it and I'm always trying to find ways to make it spicier (I even used a few habenero peppers in a batch) !
In a large pan, add finely chopped jalapenos, finely chopped red, green and/or yellow peppers (remember bell peppers are optional. I like them because they add color and tone down the spiciness), and cider vinegar. Bring to a simmer, add food coloring (opt) and stir in 2 pkgs. Sure-Jell (VERY IMPORTANT to use the "No sugar needed" style, in the pink box) to the peppers. Turn heat to med/high and bring to a full rolling boil (a boil you can not stir down) and boil exactly one minute. Remove from heat and stir in Truvia Sweetener.
Use a ladle and fill hot sterilized jars with hot jelly, make sure to leave about ½" of air space for better sealing. Wipe top of rim with clean damp towel to remove any drips. Place hot lid on top and screw ring on snugly, but not real tight. You want to allow air to escape for better sealing.
Fill a canning kettle or large pot (with bottom rack) with water, and bring water to a boil. Gently lower jars into water. Water should cover jars by at least 1". Bring water to a full boil. Reduce heat to a gentle boil, cover, and process for 5 minutes. When processed, carefully remove jars from water using tongs or a jar-lifter. Place upside-down on a rack or thick towels, and let cool without moving for 12-24 hours. Jars will make popping sounds while cooling if sealed. Remove ring, wipe jars with a clean damp towel, put ring back on and store in your pantry until ready to use.
To check the seal just press down on lid, if you are able to push it and the lid flexes it is not sealed but will keep well in the in refrigerator until ready to use.
To serve, stir to soften, pour over an 8 oz softened block of cream cheese, add a knife and let guests spread on assorted crackers. Or gently mix jelly and cream cheese until coarsely mixed and serve as a dip or spread.
Make a great glaze on fish, chicken or pork!
Great PB & JJ sandwich (peanut butter and Jalapeno Jelly) !
Questions & Replies

I used a friends jelly recipe but substituted 6 cups stevia/ erythritol blend and used sweet red peppers can't do heat lol.. I used bernardins no sugar needed pectin as I live in Canada .. it set great but when I opened Jay ans took a spoon it had some white through out the jelly so I mixed it and it turned pink and foamed up!! Could it be too much sweet ner?? Also can you tell me how to make your recipe with just sweet red peppers and would I use the 49 g. Of no sugar needed pectin??? ( 1 pack) thank you I have spend a lot of money ans wasted it using the sugar substitute

 
Reviews
The recipe says it yields twelve 8 oz jars. That's 12 cups total. So why would 10 cups of whole jalepenos, which yields approximately 8 cups of chopped jalepenos, be suspect? The stevia/truvia has a TON of airspace, so the dissolved volume is probably no more than 1.5 cups. Add in the rest of the ingredients and I'd say it's pretty spot on.

 

This recipe is awesome!!! I made it for Christmas gifts this year. The recipe fit perfectly into 24 4oz jars and EVERY ONE raved over how good it is!!! There were a couple things I tweaked/added...I squeezed in the juice from one orange, I did half apple cider vinegar and half regular vinegar and I used Stevia instead of Truvia. Other than those 3 things I stuck to the recipe exactly! Thank you Diane In Nebraska!!!