Italian Meatball and Escarole Soup
dicentra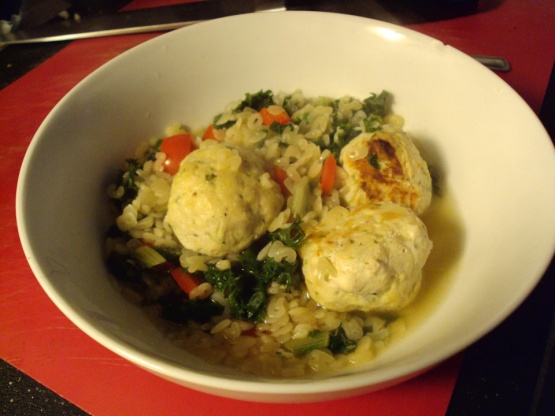 This is from my 365 Low-fat Meals cookbook. Yum! This will come together in zero time if you already have meatballs made up and stashed in the freezer. :)

This turned out really good. I doubled the recipe- except only used 2 tbsp of lemon juice and about 4 big handfuls of spinach instead of the escarole.
I added about a tsp or so of Italian seasoning, 1 can of diced petite tomatoes & 1 can of kidney beans to the broth.
I also added a handful of italian bread crumbs to the meatballs.
Amazing recipe. Thanks for sharing- will make this again and again!
In a medium bowl, combine ground turkey, egg white, garlic, parsley, Parmesan cheese, salt and pepper.
Mix lightly to blend. Shape into 16 meatballs.
In a large soup pot, bring chicken broth to a boil. Add meatballs and orzo, reduce heat to medium-low, cover and simmer 15 minutes or until meatballs are cooked through.
Add escarole and lemon juice. Cover and simmer 5 minutes, or until escarole is tender.
Serve sprinkled with more Parmesan cheese.