Irish Oaten Biscuits (Cookies)
Annacia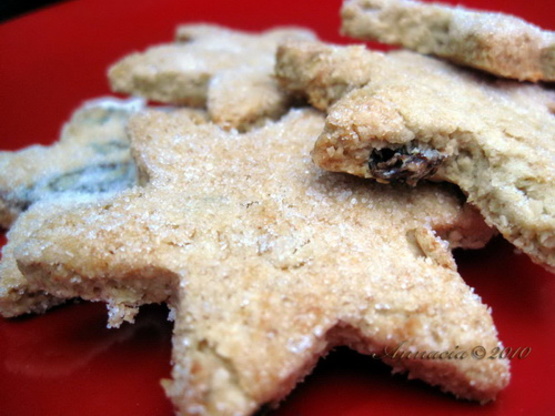 These are oaty, crumbly and utterly delicious biscuits from a traditional irish baking book. They can be made into various form, e.g. clovers or fingers (like shortbread fingers) or whatever other shapes you might fancy. ;)

My DH has been asking for oatmeal raisin cookies and I have eyed this recipe from time to time. After checking with Loula I went ahead and added a handful of raisins that I plumped in hot water first. My dough did need more liquid so I just added a bit of the raisin water until it was workable. These have the most amazing texture, mine turned out like a cross between a shortbread and a sugar cookie. They are crisp but flaky and tender at the same time. If you choose to cut them out get as many as you possibly can the first time because the scraps don't like to be re-rolled and it crumbles under the rolling pin. I ended up pressing the remains into patties and DH is equally happy with both forms.
Preheat the oven to 200°C/400°F.
Combine oat bran, oats, sugar, flour and baking soda in a big bowl. Add butter and mix well. If your dough is too dry, add some water to it until you can work it.
Roll out on a lightly floured surface and cut out cookies in desired shape (if making shortbread fingers, dont forget to prick them before baking).
Bake for about 15 minutes until cookies are golden and crispy.