Dee514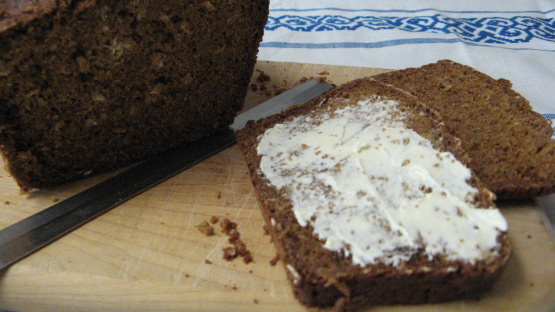 This is a very dense, hearty bread, great for soups! It's very close to what we ate at every meal when we vacationed in Ireland.

Top Review by Dee514
Mar 18, 2010
I have been looking for a good (Irish) brown bread recipe since my trip to Dublin some years ago, and this one is close to what was served in the Dublin pubs and at the Bed & Breakfast we stayed at.
The bread is dense and flavorful. I did make a few slight changes:
1. I had to sub Quaker Old Fashioned Oats for the Quick Cooking oats because that is what I had on hand.
2. I made 1 large loaf instead of two smaller ones.
3. I increased the baking time and decreased the temperature a bit because of the size of the larger loaf. It came out perfectly.

I place the dough on a parchment lined (ungreased) baking sheet, and patted it into a nice round shape, then I cut an X/cross into the top. I baked it in a preheated 425F oven for 10 minutes, then I decreased the temperature to 375F and baked it for 20 minutes. I removed it from the oven, wrapped it in a clean tea towel, and placed it on a rack to cool. The tea towel kept the crust from being too hard. The bread was very easy to make, and close to what I had in Dublin. Next time, I might sub molasses for the honey just to see how it comes out. This easy recipe makes a lovely, tasty loaf that goes well with stews or soups, or just slathered with butter. Yummmm!
Thanks for posting the recipe. :-) :-)
Mar 22, 2010 - edited to correct typos.
Aug. 30, 2010
Made the bread again today, and I made a few changes. The biggest change was baking it in a 8 x 3-inch loaf pan. It came out wonderful. Of course baking it in a pan requires a longer baking time at a lower temperature. I baked it at 375 for 10 min, then lowered the temp to 337 for about 45 minutes. Next time I think I will bake it at 345 for 50-60 minutes. I also added 3 Tablespoons of ground flax seed to the flour/oat/wheat germ mixture, and I used 1 Tablespoon molasses and 1 Tablespoon honey (instead of 2 Tb honey) mixed into real churned buttermilk. I buttered a piece of parchment for the bottom of the loaf pan, it worked very well. The bread did stick to the sides of the pan, but running a thin bladed paring knife around the sides took care of that. The bread came right out, (next time, I may butter the pan sides). I kept the loaf tightly wrapped in a clean tea towel while it cooled (so the crust would soften a bit). A perfect loaf that I can use for sandwiches and toast. :-)
Heat oven to 425°F Coat a large baking sheet with cooking spray. In a large bowl, mix flours, oats, wheat germ, baking soda and salt.
Whisk together buttermilk and honey. Add to flour mixture; stir to combine until soft dough forms.
Turn dough out onto floured surface. Divide in half. Shape each half into a round loaf. Place loaves 3 inches apart onto prepared baking sheet; bake 10 minutes.
Reduce temperature to 400°F Continue baking 10 minutes longer or until bread sounds hollow when tapped. Let cool 15 minutes.