Iraqi Stuffed Zucchini (Cousa Mashi)
WiGal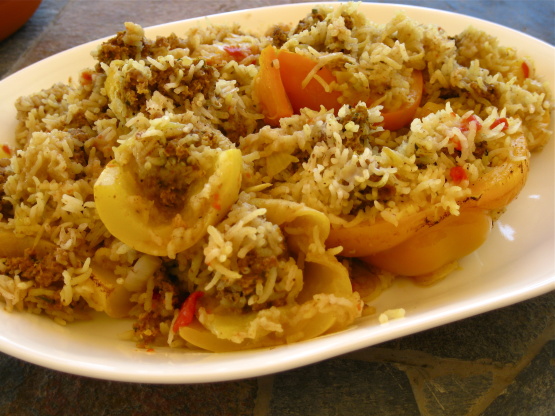 Tweaked Dh's families delicious recipe for our favorite stuffed vegetables with meat tomato sauce. Amounts are guesstimates since we only do to taste. This is not a gorgeous looking dish, but great comfort food. P.S. So far the picture posted is beautiful but much dryer than the way we like it.

Top Review by WiGal
Very tasty! I used yellow summer squash instead of zucchini as we prefer it. I soaked the rice while dh and I went for walk so it was a bit over an hour. I decided to cut my pepper shells in half b/c I wanted them to be same height as my squash. I used 1 1/2 cups of rice and that was too much-think 1 cup would have been better. I used 2 teaspoons of recipe#442889 but wished I had used more but did not want to taste raw meat and rice to figure it out. I placed the stuffed veggies in the largest diameter frying pan I had available. I also simmered for first stage about 45 minutes-b/c I wanted the rice on top to get done at top of veggies I covered pan. Then I added the remaining meat rice mixture and that part I forgot to time. I think that tomato paste should be mixed in with the water so it does not clump in certain spots. Thank you UmmBinat for sharing.
Wash and hollow out baby zucchini's cutting tops off where the stems grow. Put all together in a large pot. Discard innards.
Cut tops off bell peppers and remove seeds and membrane. Add to pot including tops. Discard innards.
Mix ground beef (CW rinses and drains), white Basmati rice, chopped onion, chopped flat leaf parsley, sea salt, to taste & baharat.
Stuff each vegetable until just about full pressing lightly to make sure there are no air pockets. If you press to hard the result will be too dry.
Cork each vegetable with stem end cutting to fit if too large. Return each.
vegetable to the pot in as even a layer as possible.
Keep remaining filling to side as it will be used in the sauce.
Add tomato paste to some water and mix (whisk works best) until no lumps remain. Add to pot along with more water until just over top of the vegetables, Add some extra bahrat spice mix to taste, sea salt, and bring to the boil.
Cover and cook until partially done adding remaining filling (it shouldn't be a lot) to the surrounding liquid so that once cooked it will form a sauce not a dry rice dish. So if needed add more water/sea salt. Boil/simmer until done.
Remove vegetables and arrange on a large platter, spoon sauce around.
Enjoy!