Iraqi Cardamom Cookies (Hadgi Badah)
COOKGIRl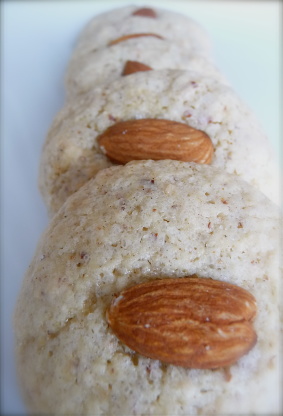 Found this recipe while looking for an Iraqi chicken and potatoes dish requested in the NA/ME forum. (From chicken to cookies, yes my mind wanders.) Saw this and thought it would be a great addition to 'Zaar for all my cardamom loving friends. The original recipe is from "The World of Jewish Cooking." Posting for some future ZWT.

Even after adding flour, this dough was too sticky to form the cookies by hand. However! I stashed the dough in the freezer for a few minutes, making it possible to hand form and add the rose water. The cookies came out very nice.
Preheat the oven to 350 degrees. Prepare baking sheets with a light coating of cooking spray, oil or butter. (Looks like parchment paper would also work well with these cookies.).
Sift together the flour, cardamom, salt, and baking powder.
Using an electric mixer, beat the sugar and eggs until light and creamy. Stir in the flour mixture, then the ground almonds.
Pinch off a small piece of dough and hand form into 1-inch balls, moistening your hands with rose water or orange blossom water, if desired. Place on the prepared baking sheets and flatten slightly. Press a whole almond into the center of each cookie.
Bake until lightly browned about 12 minutes. Transfer to a wire rack and let cool.
Store in an airtight container at room temperature.