Indian-Style Lamb Shanks With Dried Apricots
Dennii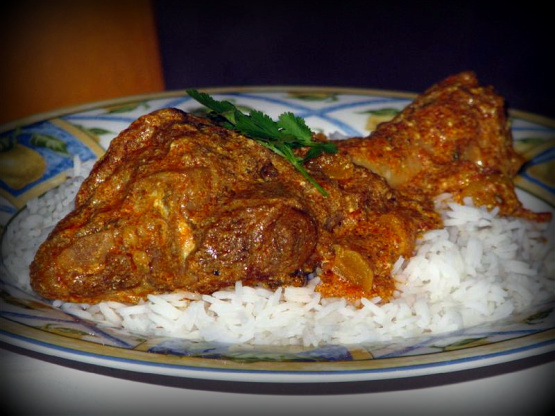 This recipe was part of lamb feature in our local/state paper The West Australian. Times are estimated and will depend to on the size of your shanks, on average ours are about 500g (not french trimmed) and normally takes closer to the 2 /12 hours, french trimmed are usually 300g to 400g and would take about the 2 hours. I personally would use a greek style yoghurt as I have found it cooks better and doesn't tend to split.

Top Review by Dennii
This was an ABSOLUTELY FANTASTIC little recipe.The flavours in it were SUPERB!
My OH raved about it on the night and the next day he was still raving about it.So I dare say it will be cooked in this household again.Im planning on cooking it for a dinner party soon too.
Heat oil in a large pot and then add the garlic, ginger, onion and chilli.
Cook for a few minutes to soften the onion and then add the fennel, turmeric and cardamom.
Next add the lamb shanks coating well with spice mixture and cook for 5 minutes.
Now add the honey, tomato paste, canned tomatoes and water and bring to the boil and lower to a simmer for 2 to 2 1/2 hours or until meat is tender (I prefer nearly falling of the bone).
Alternatively you could put it in a 160c fan forced or 180C non-fan forced oven for the 2 to 2 1/2 hours.
Add the yoghurt and apricots and simmer for another 15 minutes.
Stir through the coriander leaves just before serving.
Recommend serving with basmati rice and spicy chutney.