Indian Potatoes Cooked With Ginger: Labdharay Aloo
Susie D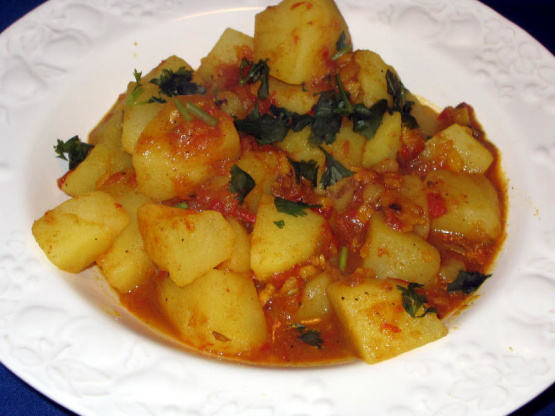 Recipe by Olha
This popular potato dish from Delhi, is eaten at school lunches, picnics and simple home meals is generally served with bread, such as deep fried pooris, and a selection of pickles. You can also serve it with pitta bread, yoghurt, a green vegetable and a chicken or meat dish. Those who are cooking Western meals will find that these potatoes taste quite wonderful with simple roast lamb.

Madhur Jaffrey recipes are a recent discovery of mine so I was happy to find a new recipe to try in your collection. As usual I wasn't disappointed with the flavor. I love the combintion of spices here, although I would caution those who don't love heat to omit the cayenne. I was expecting the result to drier and mine turned out quite soupy. I do think it would make an excellent start to a terrific pot of winter soup and I plan to utilize this recipe that way this winter by throwing a few more veggies into the mix. The broth is wonderful. Yum. If I wanted to serve as a potato side dish I would reduce the water by half next time. Thank you for sharing this tasty recipe.
Boil the potatoes in their skins. Drain them and let them cool. Peel them and cut them into 1-inch dice.
Peel the ginger and chop it coarsely. Place it with 4 Tbs. of water into the container of a food processor or blender. Blend.
Chop the tomatoes into very small pieces. Heat the oil in a large frying pan, sauté pan or wide-based pan over a medium-high flame. When hot, put in the whole cumin seeds, nigella seeds, and fenugreek seeds. Stir once and put in the ginger paste from the food processor or blender as well as the turmeric. Stir for 1 minutes. Add the tomatoes. Continue to stir and cook until the tomatoes have turned paste-like. Add the ground cumin, ground coriander and chilli powder. Stir once or twice. Now put in the potatoes, 1 ¼ cups of water and the salt. Mix well and bring to a boil. Turn heat to low, cover, and simmer gently for 15 minutes. Serves 6.
Madhur Jaffrey.A Taste of India.