Icy Cold Summer Fruit Soup
Rita1652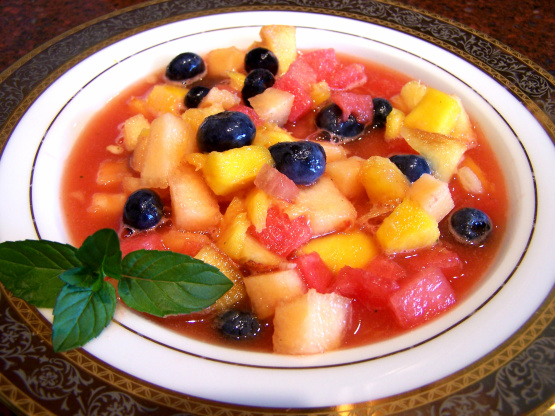 With heat from fresh ginger and a chili. Summer freshness at its best! Organic is the way to go. Be sure to wash and drain well.

Oh refreshing! Delicious fruit soup!! I used what I had as well as trying to keep it better food combined which it is not as per http://www.rawplus.com/images/foodcom.jpg. I did not add blueberries as they tend to bother our tummies (acidic), extra frozen mango but I highly recommend using fresh unless you have the rarity of ripe before frozen mango, did not add peach as supposedly unless they are organic (which I can't find) they have the most pesticides of any fruit. I read cantaloupe as honeydew, so that is what I used as it is what I had, very red seedless watermelon, my lime was extra juicy, something my lemon lacked, used fresh mint leaves from the garden, I added the fresh ginger to the blender but that step is left out, instead of the fresh chili pepper I added a couple dashes cayenne pepper. I may make this again on a very hot day hopefully including an organic peach. Made for ALL YOU CAN COOK BUFFET - SPECIAL EVENT!
Place half the watermelon in a blender with lime, lemon, mint, and chili blend till smooth.
Mix fruit in a large bowl top with juice mixture.
Chill till very very cold.
Garnish with mint!