Huevos Rancheros Tostados
Prep 10 mins
Cook 15 mins

This lovely recipe, from Cooking Light, is great served with a fruit salad. Good for breakfast or dinner!
Directions
Preheat oven to 450*F.
Lightly coat both sides of the tortillas with cooking spray, and place on baking sheet. Bake at 450*F. for 5 minutes on each side, or until tortillas are crisp.
Meanwhile, combine the picante sauce, ketchup, and pinto beans in a large nonstick skillet. Bring to a simmer over medium high heat, stirring frequently.
Make small wells in the bean mixture with a wooden spoon 2" apart.
Break a an egg into each well, and sprinkle evenly with salt.
Cover and cook 5 minutes or until egg is desired doneness.
Place one tortilla on each of 4 plates, and top each serving with 1/2 cup bean mixture and 1 egg.
Sprinkle each serving with 1 tbls. cheddar cheese, if using, 1 tbls. chopped cilantro and a dash of hot sauce, if desired. Enjoy!
Most Helpful
This was great! I smeared oil on flour tortilla`s instead of spraying them. I did like another reviewer, I fried the eggs, put them on & then the cheese & put them back in the oven that was still hot to melt the cheese & heat them up some more. My husband wanted two eggs on his & that worked also. Will definitely make again!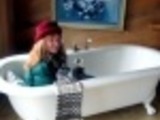 Wonderful! Part of my "eat less meat" series we're trying. I did mash some of the beans first, which I recommend (makes them very spreadable). I did fry my eggs separately. I layered egg, beans, cheese, then (since the oven was already on), baked them for a few minutes to melt the cheese. I also topped with a bit more picante, which was delicious...it was ALL delicious, and hearty!

This was a delicious and fast Mexican dish. I used black beans because that was what I had on hand. Didn't have picante sauce either, so I blended 1/2 c. tomato sauce, 1/4 c. green onions, 2 tbs. green chilis and 1/4 c. tomatoes in the food processor. I will be making this again, thanks for posting!