Hot Turkey and Cheddar Cheese Sandwiches
teresas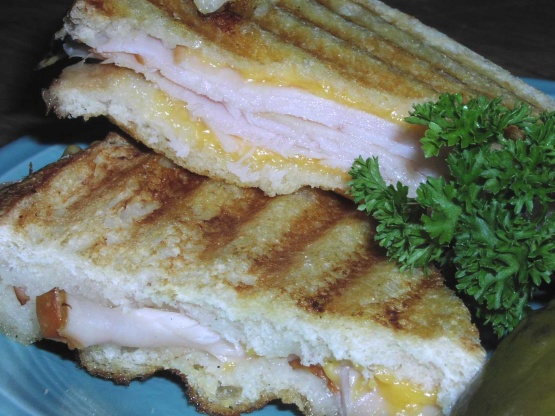 A quick and easy update to a plain turkey sandwich. Works great with a George Foreman Grill.

This is so yummy! I made only one sandwich and used the sourdough bread (a large piece cut in half). I also used shredded low fat cheddar cheese. (trying to cut the fat). I cooked it on the George Foreman grill for about 6-8 minutes. Came out nice and toasted with melted cheese oozy out the side. Just looking at it made my mouth water. Thanks for posting. :)
8

slices sourdough bread (or other desired bread)

8

slices smoked turkey breast (could also be chipped)

8

slices cheddar cheese
Place one piece of cheddar cheese on bottome piece of bread.
Place two pieces of sliced turkey (or desired amount of chipped turkey) on top of cheese.
Place second piece of cheese on top of meat.
Place second piece of bread on top.
Butter the top side and place that side down on George Foreman.
Butter what is now the top side and close the grill.
Grill until cheese is melted and bread is toasted.